THIS WEEK'S GLOBAL ANTISEMITISM REPORT
In Boston, Massachusetts, this week, a City Council member published an antisemitic tweet, writing, "Y'all are letting the Zionists SHAKE YOU DOWN," and a swastika was spray-painted on a subway station.
At its biennial General Assembly in Louisville, Kentucky, the Presbyterian Church-USA passed a resolution slandering Israel as an "apartheid" state, and a campaign sign for a Jewish gubernatorial candidate was vandalized with hate symbols in New York.
Meanwhile, flyers propagating antisemitic conspiracy theories about the Covid-19 pandemic were distributed across the United States, including in Florida, Minnesota, and Wisconsin, among other states.
In the United Kingdom, an antisemitic graffiti was discovered at at children's playground in Dartford. In the southern French city of Avignon, local authorities removed an antisemitic street mural that portrayed French President Emmanuel Macron as a puppet of Jewish economist Jacques Attali.
In Krakow, Poland, a sign advertising a Jewish culture festival was defaced with the message "Free Palestine," and a drawing equating the Star of David with the Nazi swastika.
In the center of the Tunisian capital of Tunis, a knife-wielding attacker stabbed two policeman guarding a synagogue, lightly wounding them before being overpowered and arrested.
This week's global antisemitism report highlights 39 new media reports of antisemitic incidents. The total includes 21 (53.8%) from the far-right, 9 (23.1%) from the far-left, 4 (10.3%) with Islamist motivations, and 5 (12.8%) unidentifiable in nature.
BOSTON CITY COUNCILOR FACES BACKLASH FOR 'ANTISEMITIC' TWEET
By BOB JONES
A Boston city councilor walked back a tweet in which she had enlisted an antisemitic trope, writing in frustration over a federal court ruling: "ya'll are letting the Zionists SHAKE YOU DOWN." Councilor Kendra Lara, of the city's sixth district, initially tweeted in response to an appellate court ruling that upheld an Arkansas law requiring state contractors to pledge not to boycott Israel. The appeals court said the law did not conflict with the First Amendment.

WHITE POWDER, ANTISEMITIC MESSAGE SENT TO OFFICE OF GASCÓN RECALL CAMPAIGN
By PEDRO RIVERA
No injuries were reported after an office where organizers were working on the recall of Los Angeles County District Attorney George Gascón received a suspicious package. The envelope with a white unidentified powder was sent to the office along with swastikas and an antisemitic message that read, "please send your petition to Adolf Hitler [expletive]."

SWASTIKA GRAFFITI FOUND ON CHILDREN'S CLIMBING FRAME IN HESKETH PARK, DARTFORD
By ABBY SHAW
A mum, whose Jewish grandmother fled the Nazis, was horrified to find antisemitic graffiti in a children's park where her daughter was playing. A number of swastika symbols had been drawn on the climbing frame in Hesketh Park, Dartford. Cllr Laura Edie said seeing the graffiti with her daughter was particularly "harrowing" because she and her daughter both have Jewish heritage. She said: "It was quite upsetting because my Jewish grandma actually escaped Nazi Austria when she was 18 and had a difficult life as a cleaner. "She came to England on her own because her parents could only afford to pay for the train to get her here.
LAURENCE FOX CONDEMNED BY HOLOCAUST CHARITIES OVER RAINBOW FLAG SWASTIKA POST
By FELIX POPE
Antisemitism campaigners have condemned actor and political activist Laurence Fox for posting a swastika image to social media. The failed London mayoral candidate shared a version of the Nazi symbol made out of rainbow flags to Twitter to mark LGBT Pride Month. Posting the offending picture he said: "Oh blessed and most holy month!" The former actor later told his 311,000 followers: "I've updated my profile picture for the remainder of the holy month. Blessed be the fruit."
FORMER NAZI GUARD, 101, JAILED FOR AIDING MURDER
By KIRSTEN GRIESHABER
A 101-year-old man was convicted in Germany of 3,518 counts of accessory to murder on Tuesday for serving at the Nazis' Sachsenhausen concentration camp during the Second World War. The Neuruppin Regional Court sentenced him to five years in prison. The man, who was identified by local media as Josef S., had denied working as an SS guard at the camp and aiding and abetting the murder of thousands of prisoners.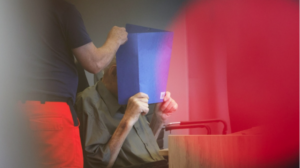 GERMANY – ANTISEMITIC DISTURBANCES FOR THE WORK "DIARY OF ANNE FRANK" PERFORMED NEAR THE MONUMENT COMMEMORATING THE EXPULSION OF THE JEWS AT WÜRZBURG CENTRAL STATION
By RIAS BAYERN
There is a monument at Würzburg main station, which commemorates the deportation of Jews from Sub-France to the Eastern European passage and extermination camps between 1941 and 1944. RIAS Bavaria has become aware of several anti-Semitic disorders caused by passers-by through reports and own monitoring during this performance. On the 6th May a man recital with the sentence: "What a shitty Jewish event here, what kind of lies are you telling?". On the 10th In June a passing person yelled 'Jews! ", other people disrupted the event by loud incomprehensible shouts, laughter, demonstrative head shakes or pointing fingers at the actress.
FRENCH CITY AUTHORITIES AGREE TO REMOVE 'ANTISEMITIC' MURAL OF MACRON
By AFP
A street art mural in a French city depicting President Emmanuel Macron as a puppet in the hands of an economist of Jewish origin has been removed, authorities said, after it was denounced as blatantly antisemitic. The controversy over the mural in the southern city of Avignon represents an embarrassment to the local authorities just two weeks before the city hosts its world-famous annual international theatre festival from July 7th. The mural, painted by the street artist Lekto, depicts Macron as the lying puppet Pinocchio with his strings pulled by the celebrated French economist and former Elysee adviser Jacques Attali, who was born to a Jewish family in French Algeria.
WEB PLATFORM TARGETING LEADING JEWS 'IS DIGITAL PROTOCOLS OF ELDERS OF ZION'
By DAVID ROSE
A sinister internet platform spouting antisemitic conspiracy theories and targeting notable Jews in the UK and worldwide amounts to a modern version of The Protocols of the Elders of Zion, experts warn in a new report. Called "Project Nemesis", the site has many thousands of viewers and uses elaborate precautions to prevent its creators being identified. It claims that Jews and non-Jewish supporters of Israel profiled on its blacklist have shown themselves to be "Zionist, and consequently racist", and to have "incited violence or hatred towards Palestinians, anti-Zionists or supporters of Palestine".
SWEDEN – A JEWISH DOCTOR SUES HOSPITAL IN SWEDEN: "I WAS FIRED ON ANTISEMITIC GROUNDS"
By WORLD ISRAEL NEWS STAFF
The Swedish Medical Association is suing Karolinska University Hospital after the firing of a Jewish doctor who says he suffered antisemitic abuse during his tenure, Israel National News reported. He also claims that his Jewish identity was the reason for his dismissal. According to the report, the doctor filed a lawsuit in 2018, claiming harassment due to antisemitism, and the hospital subsequently fired him, although he is known to be an excellent physician.
ATTACKER STABS TWO POLICEMEN OUTSIDE TUNISIA SYNAGOGUE
By AFP
An assailant with a knife wounded two police officers guarding a synagogue in the center of the Tunisian capital overnight, the interior ministry said Friday. The man had been imprisoned over a "terrorism" case and released in 2021, interior ministry spokesman Fakher Bouzghaya told AFP. The suspect assaulted police deployed to guard the Grand Synagogue of Tunis in the city center, lightly wounding two officers before being overpowered.
LIPSTADT TO BEGIN FIRST GLOBAL TOUR AS ANTISEMITISM ENVOY WITH TRIP TO SAUDI ARABIA
By DMITRIY SHAPIRO
The U.S. State Department announced on Thursday that Special Envoy for Monitoring and Combating Anti-Semitism Deborah Lipstadt will embark on an 11-day trip on June 26—the first of two international trips, beginning with a visit to Saudi Arabia. Speaking to a roundtable of Jewish journalists last week, Lipstadt said she could not have imagined that her first visit as special envoy would be to the Arab kingdom. "If you had told me a year ago, even after the [signing of the] Abraham Accords that would be the first place I would go, obviously, you're dreaming," she said.
EMORY UNIVERSITY STUDENT: I HAVE BEEN ATTACKED AND DEFAMED FOR VISITING ISRAEL
By SAMANTHA STRELZE
My name is Samantha Strelzer, and I am the President of the Rollins Student Government Association at the Rollins School of Public Health of Emory University. I recently went on a Taglit-Birthright trip to Israel, and since that time, I have been the victim of a harassment and defamation campaign both online and offline. My chief attacker is actually a fellow board member at Rollins, who did not even have the decency to engage me in conversation before she began to assault and demean my character in public.
REPORT: UNRWA'S TEACHERS OF HATE
By UN WATCH
In a new 42-page report, the independent non-governmental organization UN Watch today exposed antisemitism and incitement to terrorism propagated recently by 10 UNRWA teachers and other employees. This is in addition to more than 100 UNRWA educators and staff previously exposed published by the non-governmental organization UN Watch, an independent human rights monitoring group based in Geneva. UN Watch's new report uncovers 20 new cases of virulent incitement, committed by 10 UNRWA teachers and other staff, in violation of the agency's own rules and stated values of zero tolerance for racism, discrimination or antisemitism.
ISRAEL ELECTED TO LEAD INTERNATIONAL HOLOCAUST REMEMBRANCE ALLIANCE IN 2025
By SHARON WROBEL
Israel will serve as President of the International Holocaust Remembrance Alliance (IHRA) for 2025, a year marking 80 years since the liberation of the Auschwitz-Birkenau concentration camp and the end of the Second World War. "The State of Israel, Ministry of Foreign Affairs and Yad Vashem are committed to preserving the memory of the Holocaust and to the fight against antisemitism," Israeli Foreign Minister Yair Lapid said on Thursday. "As the son of a Holocaust survivor, I see it as a personal privilege and duty to continue the preservation of the memory of the Holocaust and the constant fight against antisemitism wherever it rears its head.
HOUSE LAWMAKERS URGE FEDERAL INQUIRY INTO 'MAPPING PROJECT'
By MARC ROD
A bipartisan group of 37 House members is urging federal law enforcement agencies to investigate the potential use of the Boston-area "Mapping Project" by extremist groups. The Mapping Project, published earlier this month by an anonymous group of BDS supporters, alleges links between a range of Massachusetts Jewish groups and police, government, media and other institutions. The project blames these groups for a range of nefarious activities and calls for them to be "dismantle[d]."
HER FATHER FLED THE NAZIS. SHE'S THE NEW U.S. AMBASSADOR TO GERMANY
By KATRIN BENNHOLD
After Amy Gutmann's father fled the Nazis in 1934, he swore never to set foot in Germany again. For the rest of his life, he boycotted German goods and only spoke English to his daughter. Germany, he impressed on her when she was growing up, was "very bad." "Do you want to be my ambassador to Germany?" Mr. Biden asked her. Ms. Gutmann was sworn in on the Hebrew Bible her German grandmother Amalie, for whom she was named, had brought with her from Germany. Germany has welcomed Ms. Gutmann not just as a representative of a new administration but of the American ally of old — before it turned fickle and abrasive during the Trump years.
HOLOCAUST SURVIVORS WELCOME UKRAINIAN REFUGEES TO POLAND
By ARMIN ROSEN
Today, someone arriving to Krakow by train in the evening might be greeted with the smell of cup noodles being distributed to crowds of refugees fleeing the Russian invasion of Ukraine, the least fortunate of whom haven't strayed far from the city's railway station, where much of the emergency assistance effort is still clustered. It is some of Ukraine's poorest who are arriving now, even if the mass migration of February and March has largely ended. The newest of Krakow's refugees tend to be from more outlying or rural areas where much of the actual fighting is now taking place.
 The Combat Antisemitism Movement is a global coalition engaging more than 360,000 people and 450 organizations from a diverse array of religious, political, and cultural backgrounds in the common mission of fighting the world's oldest hatred. We act collaboratively to build a better future, free of bigotry, for Jews and all humanity.