Greek Street Mural to Honor Duo of 'Righteous Among the Nations' Holocaust Heroes
Craig Dershowitz — CEO of Artists 4 Israel — and Kleomenis Kostopoulos — Creative Director of Art in Progress — announced at an International Holocaust Remembrance Day event this week that the next "Righteous Among the Nations" artistic street mural will be created in Greece this spring.
Mayor Loukas Karrer and Metropolitan Dimitrios Chrysostomos were the heroic duo who saved the entire Jewish population of the Greek island of Zakynthos during the Holocaust. Now, their courageous story of standing up to Nazi evil will be shared with a mass audience through a public art installation in the western Greek city of Patras.
Dershowitz remarked, "The things that bring us together, far outnumber the things that divide us. Art has the power to unite us, and we think the act of creating art is universal. This is why bold and highly visible messages are one of the best tools we have to honor these heroes."
The mural will be the second of a global campaign honoring the "Righteous Among the Nations" — non-Jews recognized by Yad Vashem for risking their lives to save Jews from Nazi extermination. The murals are meant to teach younger generations about the perils of antisemitism and the need to fight contemporary bigotry with social solidarity.
The pilot mural of the project — "A New Memory Across the Portuguese Skyline" — has been seen by hundreds of thousands of residents, local visitors, and international tourists to the northern Portuguese city of Vila Nova de Gaia, and millions more on social media.
The mural — created by street artist Mr. Dheo — honors Portuguese diplomat Aristides De Sousa Mendes, a "Righteous Among the Nations" who issued thousands of passports and visas to Jewish refugees fleeing Germany.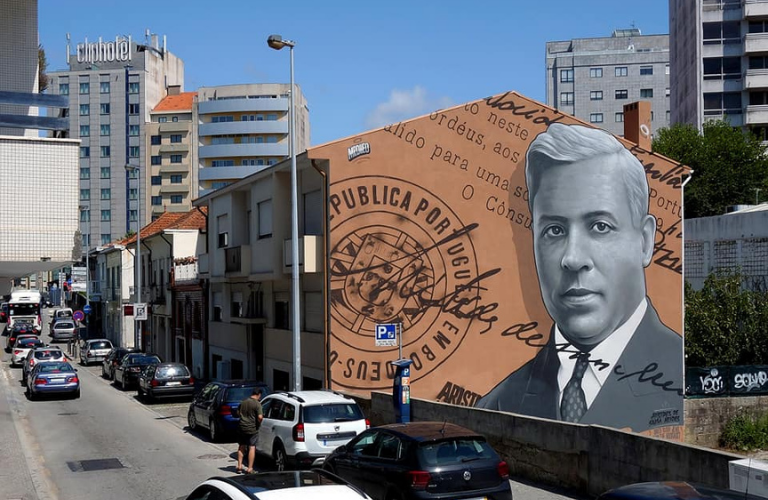 Kostopoulos said, "Murals are one of the most important forms of contemporary expression and communication in public spaces. Today, more than ever, we must revisit our history in Greece by bringing it to the streets, and putting it in their faces."
Sacha Roytman-Dratwa — CEO of the Combat Antisemitism Movement — said the Greek Righteous Among the Nations mural was personal to him, noting, "I am alive today because my grandparents were saved during the Holocaust, and I am alive today because of people who stood up to the darkness."
The mural campaign seeks to open up a new model in Holocaust education and the fight against antisemitism, using art to drive out hate.
A full recording of the Greece mural announcement can be viewed here: