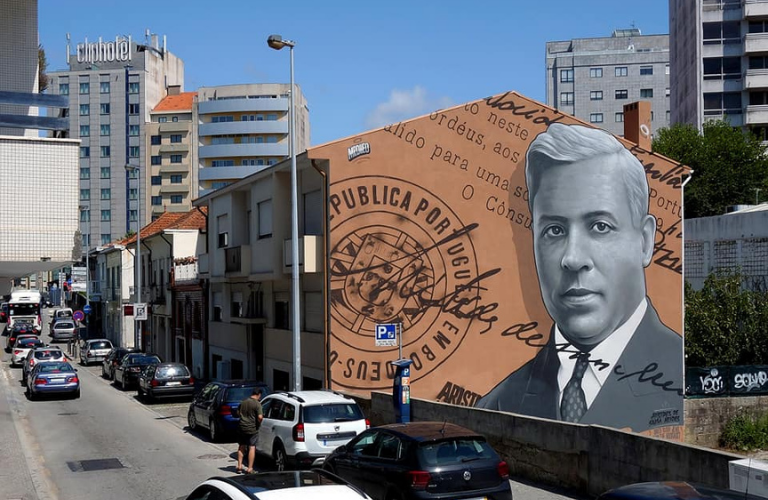 New Street Mural Honoring Diplomat Who Saved Jews During Holocaust Turns Heads in Portugal
A new mural painted by renowned street artist Mr. Dheo to honor the late diplomat Aristides de Sousa Mendes, who saved thousands of European Jews during the Holocaust at great personal cost, is turning heads in the northern Portuguese city of Vila Nova de Gaia.
The piece — created with support from the Combat Antisemitism Movement (CAM) — is part of Artists4Israel's "Righteous Among the Nations" Global Mural Project.
"There are a lot of ways to combat antisemitism, and unfortunately too many of them come from a real negative, accusatory place, which I think, if we consider human psychology, pushes people away," said Artists4Israel Executive Director Craig Dershowitz. "Here, on the other hand, we're coming from a positive place."
He added, "We're showing people heroes from their countries, with the message, 'Your countryman did something great. You can be the next Aristides de Sousa Mendes. God forbid it doesn't come to that, but if it does, you can be that person. And you can start looking now at what's happening and try to prevent it. You can embody that bravery and that sense of standing with the Jewish people.'"
The reaction to the mural has been universally positive, with thousands of "Likes" on Facebook and Instagram.
View this post on Instagram
It has also drawn approving attention from family members of Sousa Mendes and Holocaust survivors who are alive today thanks to his courageous deeds, for which he was recognized by Yad Vashem as "Righteous Among the Nations" in 1966.
As Portugal's Consul General in Bordeaux, France, in the late 1930s, Sousa Mendes defied orders from his government and issued thousands of lifesaving visas and passports to Jewish refugees fleeing the Nazis. He was ultimately dismissed from his position and left destitute. Sousa Mendes passed away in 1954.
Mr. Dheo, Dershowitz recalled, had to put headphones on to complete the mural because he was getting stopped by so many passersby telling him how much they loved it.
Been busy painting a big wall. But hopefully soon I will drop a new #nft 🙌

Hope you're all doing good! 🙏#mrdheo pic.twitter.com/TFvnjYfdz8

— MrDheo (@mrdheo) August 4, 2021
Mr. Dheo had already participated in two past Artists 4 Israel initiatives, one on Netanya, Israel — where he painted a mural on a building damaged in a terrorist attack — and the other in Indonesia.
The mural of Sousa Mendes is visible from a heavily-trafficked commuter route between Vila Nova de Gaia and neighboring Porto.
"We know its power, its something that is permanent, which is amazing," Dershowith commented. "People are going to see it, it is unavoidable. It's not like they have to choose to log on to Zoom. If they're going to be on that street, they're going to see it."
To learn more about Artists4Israel, visit: artists4israel.org