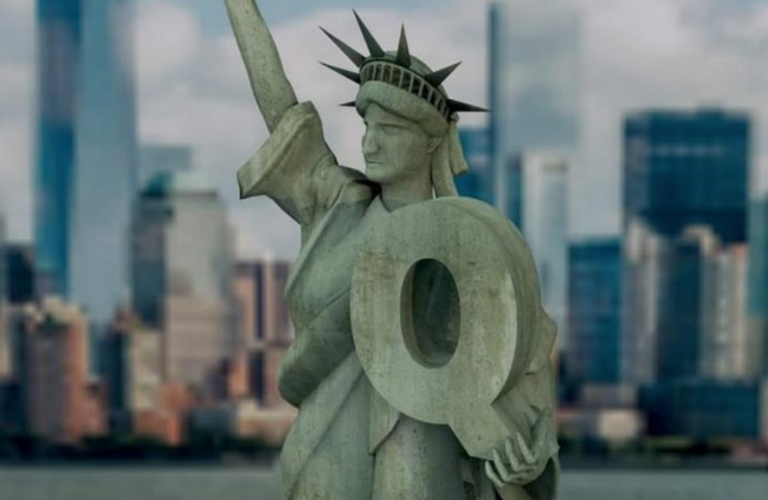 Simon Wiesenthal Center Report Examines QAnon's Rise from Fringe Conspiracy Theory to Mainstream Agenda
On September 22nd, The Simon Wiesenthal Center's (SWC) released a special 11-page report detailing the origins of QAnon, a fast growing internet conspiracy theory. In their report the Simon Wiesenthal Center examines what is new about the conspiracy including how much support QAnon has from the American public, which politicians support it, and what the implications are if QAnon continues to grow in the future. 
Just as anti-Semitic conspiracy theories have circulated for thousands of years, the SWC report details how conspiracy theories birthed on the internet play into the public's fears and sensibilities. Many followers of QAnon believe, without evidence, that a secret network of Democrats and Hollywood elites work in a large scale child trafficking ring.
As this report describes, QAnon's basis is far from original and draws from numerous anti-Semitic tropes. QAnon perpetuates the centuries-old conspiracy theory that that the Rothschild family control global banking networks along with blood libels against Jews. 
According to the repot, QAnon also openly takes inspiration for its "global cabal" from the Protocols of the Elders of Zion, a historically inaccurate document used to promote anti-Semitism and raise suspicion of Jewish communities everywhere.
The report also acknowledges that QAnon is growing at an alarming rate despite efforts by media companies to censor it. 
"QAnon continues to grow in popularity," the Simon Wiesenthal Center reported "Even as its pages, groups and accounts are removed from mainstream social media, and pushed into alternative spaces like Parler." the report reads
In the lead-up to the 2020 American election, the SWC has urged all elected officials to review this report. 
In a blog post, The Simon Wiesenthal Center said "Whatever the political affiliation, the focus should be on the real challenges besetting our nation and to denounce, not support, fear-mongers and conspiracy peddlers."
Read the full report here: http://www.wiesenthal.com/assets/qanon-from-fringe-conspiracy.pdf