Top Ten Shocking Antisemitic Incidents of May 2022
The Combat Antisemitism Movement (CAM) Information Hub collects comprehensive antisemitism data from around the world on a constant basis. In a new regular feature, we will publish information on the top ten antisemitic incidents that shook Jewish communities globally during the preceding month. 
The top ten most shocking antisemitic incidents of May 2022 are as follows:
1. Truck Covered in Antisemitic Messages in West Hollywood Being Investigated as Hate Incident
– A rented box truck covered in antisemitic and racist slogans — such as "Jewish Lives Matter Most" and "Resisting the Great Replacement = Greatest Threat??" — was driven through West Hollywood and Beverly Hills.
2. Russian Foreign Minister Lavrov: So What if Zelensky Is Jewish, Even Hitler 'Had Jewish Blood'
– Russian Foreign Minister Sergey Lavrov said that the fact that Ukraine's president is Jewish does not contradict Moscow's claims that it launched the invasion to "denazify" the country, claiming that even Hitler "had Jewish blood."
3. Online Manifesto Attributed to Suspected Buffalo Supermarket Shooter Vilifies and Urges Violence Against Jews
– A manifesto attributed to the 18-year-old white man suspected of killing ten people at a supermarket in a predominantly Black neighborhood of Buffalo, New York, contains a slew of hateful antisemitic rhetoric vilifying Jews and calling for violence against them.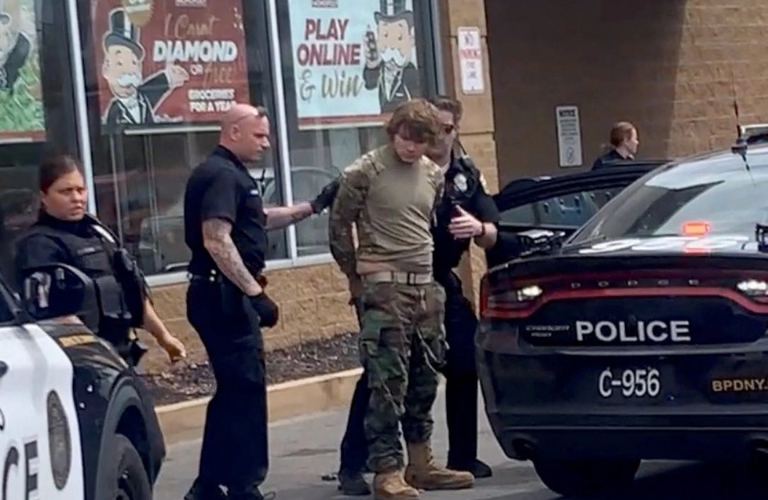 4. Three Killed in Independence Day Terrorist Attack in Central Israeli City of El'ad
Two Palestinian terrorists attacked people with an axe and a knife at a central park and a nearby road in the largely ultra-Orthodox city.
5. German Police Foil 'Nazi Terror Attack' at School; Teen Suspect Arrested
– German investigators said they foiled a school bomb attack in the western city of Essen, arresting a 16-year-old, and uncovering several explosive devices, as well as antisemitic and anti-Muslim materials, at his home.
6. Daylight Antisemitic Beatdown Sends Jewish Man to NYC Hospital
– Police say a violent attack in Brooklyn hospitalized a 32-year-old man wearing traditional Jewish clothing.
7. 'Free Palestine': Yeshiva Student Assaulted in Third Antisemitic Attack in Brooklyn In Five Days
– A yeshiva student was surrounded by five males at the intersection of of Avenue M and East 18th Street in Flatbush and punched in the face.
8. Australian Police Investigating Antisemitic Attack on Jewish Men in Melbourne
– Australian police are investigating an attack on two Jewish men in the city of Melbourne that left one of them requiring hospital treatment for severe bruising and lacerations.
9. Historic Oregon Synagogue Becomes Target of Antisemitic Attack
– Police and other law enforcement officials are investigating a fire and antisemitic graffiti discovered on Monday outside Congregation Beth Israel in Portland, Oregon.
10. Iraqi Parliament Passes Legislation Criminalizing Contact With Israel on Pain of Death
– The bill outlaws "contact and communication of any kind and means with the occupying Zionist entity, its nationals, and representatives, whether individuals or institutions or organizations, for any reason."
For more information on CAM's antisemitism incidents data, please visit: combatantisemitism.org/newsletters