US Deputy Special Antisemitism Envoy Lays Out Priorities in Fight Against Jew-Hatred at Kyiv Jewish Forum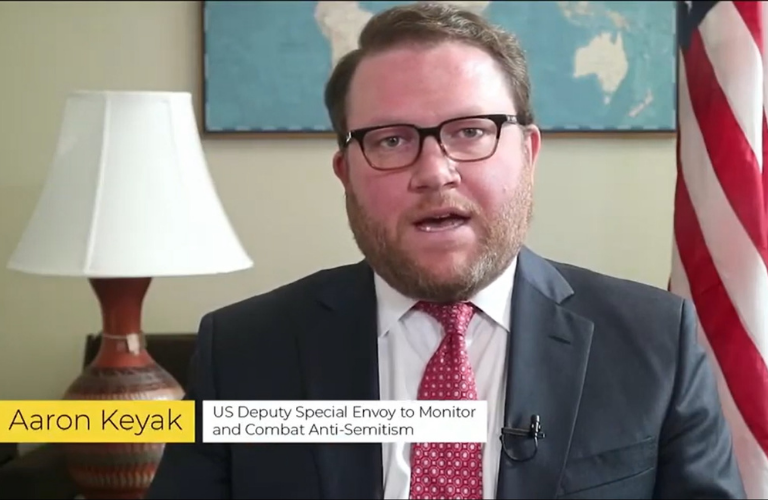 U.S. Deputy Special Envoy to Monitor and Combat Antisemitism Aaron Keyak.
December 30, 2021
At the third-annual Kyiv Jewish Forum earlier this month, new U.S. Deputy Special Envoy to Monitor and Combat Antisemitism Aaron Keyak spoke about the steps the American government is taking to fight Jew-hatred domestically and internationally.
"I am grateful for the opportunity to underscore the Biden-Harris administration's deep commitment to combating antisemitism, both at home and abroad, as we continue to see levels of antisemitism rise worldwide," Keyak said.
"One of the most shocking consequences of the Israel-Gaza escalation earlier this year is that it led to an explosion of antisemitic rhetoric, violence, and other incidents," Keyak recalled, noting that the U.S. saw a "startling 80 percent increase in antisemitic incidents during the month of May."
"We unequivocally condemn all attacks targeting Jews, Jewish places of worship, community centers, and cemeteries, as well as antisemitic rhetoric in the United States and abroad," he said.
Keyak went on to detail the current American priorities in the fight against Jew-hatred, saying these included "working together to condemn and counter antisemitism, whenever and wherever it occurs, whether online or offline; ensuring physical security for Jewish communities; the investigation and prosecution of hate crimes; educating the public, especially youth; countering Holocaust denial and distortion; and urging countries to appoint antisemitism coordinators, and embrace and apply the International Holocaust Remembrance Alliance Working Definition of Antisemitism, inclusive of its examples."
Watch Keyak's full remarks here:
The two-day virtual Kyiv Jewish Forum was co-hosted by the Jewish Confederation of Ukraine, the Center for Jewish Impact, the Combat Antisemitism Movement, and the Euro-Asian Jewish Congress.
For more information on the Kyiv Jewish Forum, visit: kyivjewishforum.com