2021 Was Most Antisemitic Year in Past Decade, New Study Finds
2021 was the most antisemitic year in the past decade globally, with at least 10 incidents per day, according to a new report published by the World Zionist Organization and Jewish Agency for Israel last week.
The annual study found that nearly 50% of last year's incidents took place in Europe, while around 30% occurred in the United States.
The report also noted sharp rises in Jew-hatred incidents in Canada and Australia, leading to them being added to the "List of Red Countries" for antisemitism.
Correlations were detected between antisemitism surges and certain events, such as the flare-up of Israel-Gaza violence in May and the lifting of Covid-19 pandemic-related lockdowns.
"Already in 2020, the pandemic caused an increase in the number of antisemitic incidents, which was mainly expressed in the digital space, but as soon as it was possible to move around the public space again, antisemitism took to the streets," the report said. "Many demonstrations against the Covid vaccines and restrictions included Holocaust motifs, such as the yellow star, as well as antisemitic conspiracy theories accusing Jews as spreaders of the pandemic to control the world."
"The use of these symbols has created a worrying phenomenon called 'trivialization of the Holocaust,' whose main purpose it is to diminish the dimensions of the Holocaust and its historical uniqueness and importance," it added.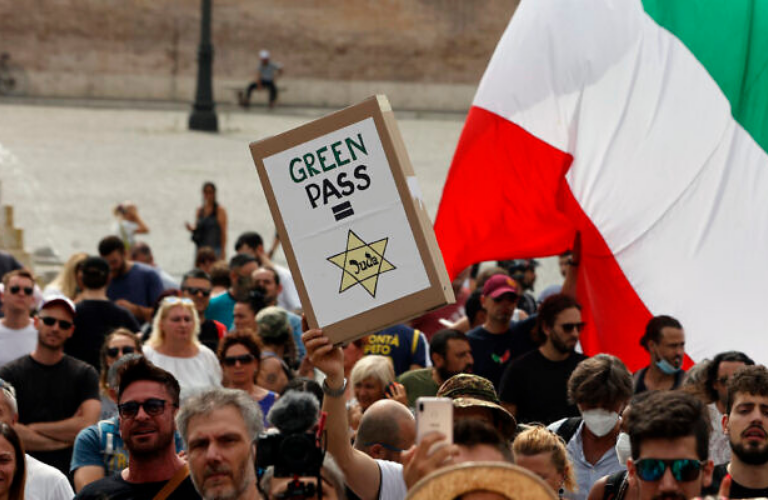 Raheli Baratz-Rix — head of the Department for Combating Antisemitism and Enhancing Resilience at the World Zionist Organization — stated: "Antisemitism is not a new term, but a term that reinvents itself. Jewish communities around the world face the challenges of a rising and ever-changing antisemitism. The resilience of the Jews is measured by their determination and strength, standing together as a community in the face of these challenges. Despite the grim statistics, this year we have also seen a little light emanating in various forms, such as the adoption of the IHRA working definition of antisemitism by many countries, Holocaust education laws passed, laws passed to prevent the use of Holocaust symbols, and of course in the war on BDS."
"It is the duty of every country to provide its citizens with security and to protect them in every event that takes place on its land, including the Jewish community," she added. "At the same time, the State of Israel will always continue to be an anchor for every Jew who desires it."