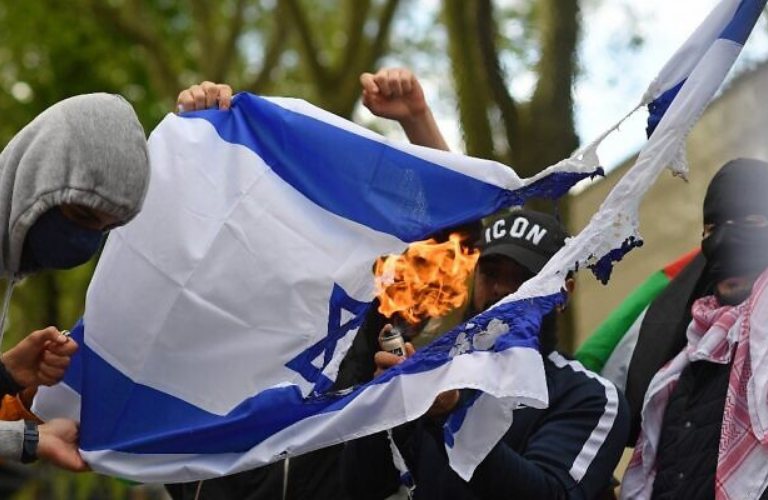 UK Experienced Worst-Ever Antisemitism Outbreak in One-Month Period in May, New Report Shows
The United Kingdom experienced its worst-ever outbreak of antisemitism in a one-month period, from May 8th-June 7th this year, according to a report published earlier this month by the Community Security Trust (CST).
This surge of hate crimes targeting British Jews — including physical assaults, verbal harassment, hate speech, and vandalism — coincided with a flare-up of Israel-Gaza violence.
The CST data showed there were 628 antisemitic incidents in the May 8th-June 7th time frame, a 365% increase from the previous month and an average of more than 20 per day. This was also more than four times the number of incidents during the same period last year.
CST CEO Mark Gardner stated, "This anti-Jewish rage was fueled by extremists and directed against everyone from schoolchildren to rabbis, coming as violence and intimidation in schools, streets and shopping centers."
"We need firmer action against the perpetrators, and an end to the selective anti-racism from those who passionately oppose most racism but uniquely ignore, misrepresent or make excuses for this type of anti-Jewish hate," he added.
The most notorious of the incidents in May were a violent physical attack on a rabbi in Chigwell, and the shouting of antisemitic and misogynistic abuse from a pro-Palestinian vehicle convoy in St John's Wood.
Many pro-Palestinian demonstrations featured bigoted and threatening rhetoric toward Jews.
There were also almost as many school and university-related antisemitic incidents in just one month (154) as there were in all of 2019 (162), the last year in which academic institutions operated normally before the Covid-19 pandemic.
"The level of anger and hate that is directed at Israel always spills over into antisemitism at times of conflict," the CST report said. "Such crises see a recurring and disturbing pattern: reactions to "trigger events," often from overseas, cause significant spikes in anti-Jewish hate crimes and hate incidents in the UK. In practice, this means that the perpetrators of these incidents deliberately target Jews and Jewish institutions to express their hatred of, or anger towards, Israel; or they use Israel as an excuse to attack Jews."
"This is a pattern British society in general and British Jews have seen too many times before," it noted.
The full CST report is available here: cst.org.uk/public/data/file/4/a/The_Month_of_Hate.pdf