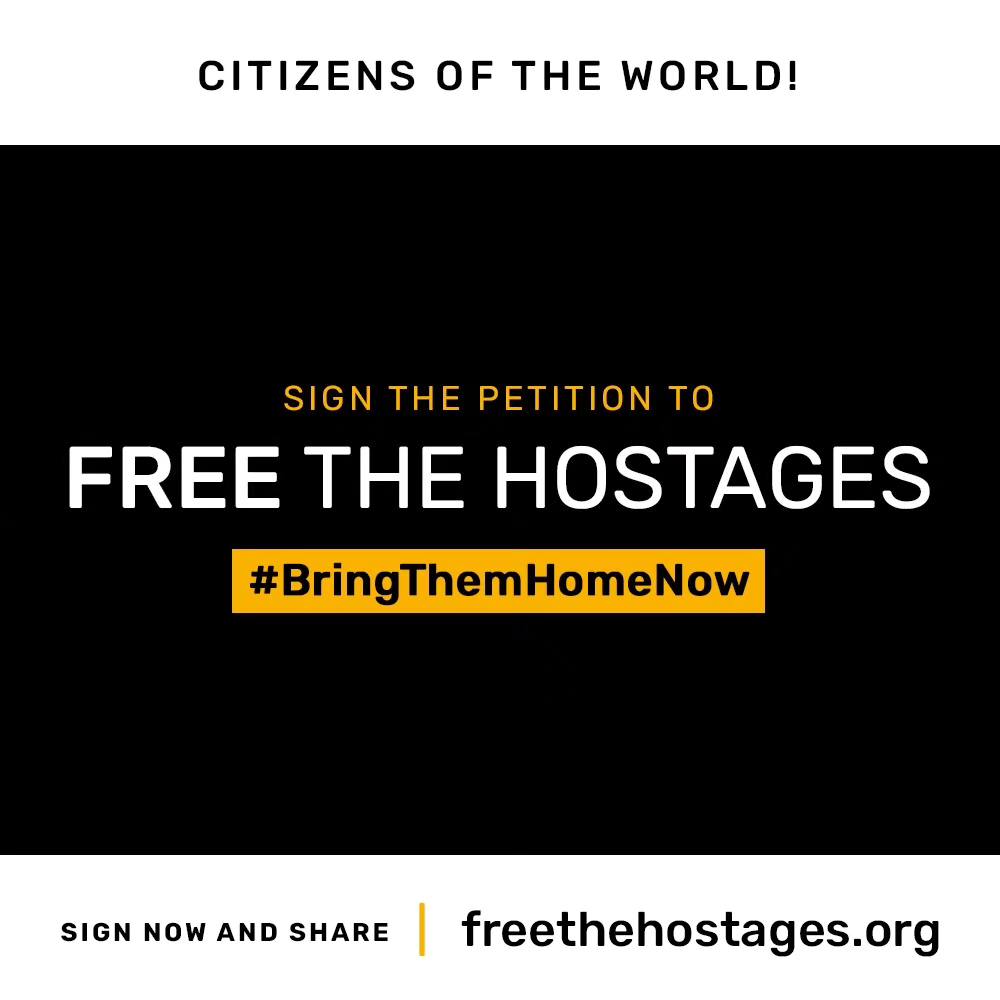 Sign the Petition to Free the Hostages!
This petition represents a plea for humanity — a call to action that transcends political affiliations or national interests.
It is a testament to our shared values of compassion, justice, and solidarity. By signing this petition, you are not merely extending a helping hand to the Jewish community or the people of Israel; you are standing in solidarity with all those who have ever fallen victim to terror, oppression, and hatred.
Let us remember that our individual actions, when combined, can create an unstoppable force for change. By joining this call, you are adding your voice to the chorus of millions around the world who refuse to remain silent in the face of injustice. Your signature will serve as a powerful symbol of unity, resilience, and hope — a beacon of light amidst the darkness that threatens to engulf us.
We urge you to act swiftly and decisively, for every moment that passes brings us closer to irreversible consequences. The time to act is now, for the lives of the innocent hostages, and the very essence of our shared humanity, hang in the balance.
Thank you for your attention to this urgent matter. We trust in your commitment to peace, justice, and the well-being of all people, regardless of their background or beliefs. May your actions reflect the values that bind us together as a global family.
Petition text:
We, the global citizens of the world, come together in this urgent petition to implore heads of states and international institutions to take immediate and decisive action to secure the safe release of the innocent hostages who were brutally abducted by Hamas on October 7th.
This heinous act of terror stands as a stark reminder of the darkest chapters in human history, echoing the pain and suffering endured during the Holocaust. We must not allow such atrocities to persist in our modern world.
As members of humanity, we are bound by a shared responsibility to protect and support one another, regardless of our differences. This crisis in Israel transcends borders, ethnicity, and religion. It is a call to action that unites us as equal members of the global community, reminding us that when one part of humanity suffers, we all bear the burden of that suffering.
The anguish experienced by the families of these innocent hostages is immeasurable. They live in a constant state of fear and uncertainty, tormented by the thought of their loved ones in the hands of those who seek to spread terror and division. We cannot turn a blind eye to their pain, for it is a reflection of our collective vulnerability and fragility as human beings.
Therefore, we implore you to use your influence and authority to exert maximum pressure on Hamas and all relevant actors to secure the immediate and unconditional release of the kidnapped hostages.
The world is watching, and it is our duty to ensure that justice prevails and that the victims are brought back to their families unharmed.
SIGN THE PETITION HERE.