THIS WEEK'S GLOBAL ANTISEMITISM REPORT
The Latin American Forum to Combat Antisemitism convened the region's leading Jewish organizations and dignitaries to combat rising antisemitism, and to promote ongoing efforts to secure justice for the survivors and victims of the AMIA bombing on the 28th anniversary of the attack that killed 85 people.
French President Emmanuel Macron inaugurated a new Holocaust museum on the 80th anniversary of the deportation of French Jews, saying "Those dark hours have forever stained our history…France committed the unforgivable." Macron added, "France now has a duty, in order to remain true to itself, to acknowledge this and to cede no inch to the present-day antisemitism."
A New Jersey man made terroristic threats towards worshippers outside of an orthodox synagogue, and a man in New York harassed congregants outside a Chabad Jewish center during a Holocaust survivor's speech. Also in New York, an orthodox Jewish man was assaulted in Brooklyn, and four teenagers were arrested for a drive-by assault on Hasidic Jews upstate.
A German national in Florida was arrested with bomb-making components, Nazi memorabilia and antisemitic materials. In Germany, the Berlin Holocaust memorial was vandalized with a swastika and "Heil Hitler" graffiti.
French Jewish schoolchildren on holiday in Croatia woke up to a giant swastika painted outside their hotel, and a 600-year-old Jewish cemetery in Turkey was vandalized, with 36 graves destroyed.
As Russian authorities appear poised to shut down the Jewish Agency in the country, Moscow's former chief rabbi, who recently fled the country, expressed growing concern of a new "Iron Curtain," behind which Russia will prevent Jews from emigrating.
This week's global antisemitism report highlights 36 new media reports of antisemitic incidents. The total includes 21 (58.3%) from the far-right, 2 (5.6%) from the far-left, 3 (8.3%) with Islamist motivations, and 10 (27.8%) unidentifiable in nature.
NO ARRESTS MADE IN BRUTAL BEATING OF ORTHODOX JEWISH BROOKLYN MAN
By DIANA GLEBOVA
An Orthodox Jewish man was brutally attacked Wednesday afternoon in Crown Heights, Brooklyn, after getting into an argument about a supposed car accident — adding to the growing number of attacks on Jewish people in the racially diverse neighborhood. Yosef Hershkop, a 31-year-old community activist in Crown Heights, claimed he was attacked Wednesday in front of his 5-year-old son.
GOSHEN, NY POLICE SEEK MAN WHO MENACED JEWISH PLACE OF WORSHIP
By NEWS 12 STAFF
Goshen police are looking for a man who menaced a group of Jewish people outside the Chabad of Orange County in Goshen Thursday night. A survivor was retelling the horrors of the Holocaust with a message of standing up to hate when it happened. "At an evening to commemorate and remember the Holocaust and how it should never happen again. Never again! And at the actual event, there are people just spewing hate," says Rabbi Meir Borenstein.
DENVILLE, NJ MAN CHARGED WITH THREATENING CONGREGANTS AT DEAL SYNAGOGUE
By JEAN MIKLE
Police charged a 44-year-old Denville man with bias intimidation and making terroristic threats after he threatened congregants at a Lawrence Avenue synagogue. Nicholas Skirvin also was charged with harassment by police after he screamed obscenities and threatened people outside the Orthodox Jewish Ohel Yaacob Congregation about 1 p.m. Friday, police said. Skirvin was held Saturday in the Monmouth County Jail in Freehold Township, awaiting a detention hearing, police said.
"LET'S PUNCH THEM IN THE FACE": GANG MEMBERS REPORTEDLY TARGET VISIBLY JEWISH CHILDREN IN STAMFORD HILL
By CAMPAIGN AGAINST ANTISEMITISM
Gang members have abused two visibly Jewish children, it has been reported. The gang is believed to be associated with the nearby Webb Estate and is accused of harassing Jewish residents for years. Two boys, eleven and seventeen, were walking to a nearby park with their bikes when members of the gang reportedly approached them and said: "Let's get their bikes. Punch him in the face". The boys managed to escape but claimed that these incidents occur on a daily basis.
RANGERS BAN SPECTATOR FROM IBROX AFTER NAZI SALUTE IN PRE-SEASON FRIENDLY AGAINST WEST HAM
HOLOCAUST MEMORIAL IN BERLIN VANDALIZED WITH SWASTIKAS, 'HEIL HITLER' GRAFFITI
By SHIRYN GHERMEZIAN
Two swastikas and the slogan "Heil Hitler" were found carved onto a concrete block that is part of the Memorial to the Murdered Jews of Europe in Berlin, Germany. Police said a security guard discovered the graffiti on Friday morning at the site commemorating the 6 million Jews murdered in the Holocaust. Germany's State Security Service is investigating the incident to find those responsible for the vandalism at the memorial, which opened in 2005.
GERMAN PUBLIC TV BLASTED FOR AIRING CLAIM 'JEWISH LOBBY' CONTROLS US MIDEAST POLICY
By JEWISH NEWS SYNDICATE
The airing on German public television of an interview in which a German political scientist claimed that the Biden administration's foreign policy was controlled by the "Jewish lobby" drew sharp criticism online and in the German media. The interview with researcher Josef Braml was conducted on Friday by ZDF television reporter Dunja Hayali. Braml is listed on the website of the German Council on Foreign Relations as an expert on the United States.
POLICE LOOKING FOR SUSPECTS WANTED IN ANTISEMITIC GRAFFITI CASE IN TORONTO
By ANDREW PALAMARCHUK
Police are seeking help in identifying two males in an investigation into suspected hate-motivated graffiti in Willowdale. Toronto police said two young men went to three locations in the Yonge Street and Empress Avenue area and "committed antisemitic vandalism/graffiti" in the early morning hours of June 9.
EX-MOSCOW CHIEF RABBI FEARS RETURN OF 'IRON CURTAIN' BLOCKING JEWISH EMIGRANTS
By TOI STAFF and JTA
Pinchas Goldschmidt, who until recently served as the chief rabbi of Moscow, has expressed concerns that Russia may move to prevent Jewish citizens from leaving the country, in a return to Cold War-era Soviet policy. "There is a fear today that the Iron Curtain will close completely, and that one day it will become impossible to leave Russia at all," the rabbi told Israel's Channel 12 news in an interview broadcast Thursday.
ON HOLIDAY IN CROATIA, FRENCH JEWISH SCHOOLCHILDREN WAKE UP TO FIND GIANT SWASTIKA DAUBED OUTSIDE THEIR HOTEL
By YOSSI LEMPKOWICZ
A group of French Jewish schoolchildren staying on holiday at a hotel in the town of Trilj near Split, in Croatia, woke up Monday to a giant swastika daubed on the pavement in front of their hotel. The Brussels-based European Jewish Association (EJA) was informed about the clear antisemitic act by their representative in Croatia, Romano Bolkovic who contacted the offices of the Croatian Prime Minister, President and the Ministers of Foreign Affairs and Internal Affairs, and informed the Israeli ambassador.
600-YEAR-OLD JEWISH CEMETERY IN TURKEY VANDALIZED, GRAVES DESTROYED
By ZVIKA KLEIN
A total of 36 tombstones were destroyed in the Jewish Hasköy Cemetery in Istanbul Turkey in an act of vandalization on Thursday night, according to a tweet by an official Jewish community account. According to the report, the incident took place on Thursday at midnight, and the relevant authorities have been informed.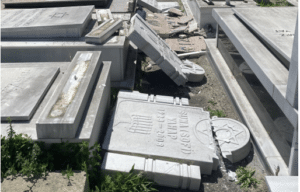 ROGER WATERS TALKS OF 'APARTHEID' ISRAEL, BASHES GOLDA MEIR IN ONLINE STUDENT FORUM
By FAYGIE HOLT
Former Pink Floyd member and vocal Israel critic Roger Waters bashed Israel, the "settler-colonialists, Zionist movement" and even Golda Meir during an online program to support pro-Palestinian students at McGill University in Canada. "At the turn of the millennium, I had no idea really what was going on," said Waters. "I thought, Israel isn't that people in sandals going around and you know farming, and aren't they Socialists. … I was completely wrong. It's not about that at all.
UK: SHOCK REPORT REVEALS FULL EXTENT OF ANTISEMITISM IN COVID CONSPIRACY GROUPS
By JENNI FRAZER
A new report from the Community Security Trust (CST) has brought together the full extent of antisemitism within Covid conspiracy groups. CST recorded 118 antisemitic hate incidents in 2020 and 2021 that involved language or imagery linked to the pandemic, alongside anti-Jewish language or targeting. These incidents included verbal abuse and threats directed at Jewish people, graffiti blaming Jews for Covid, and antisemitic leaflets.
LATIN AMERICAN FORUM TO COMBAT ANTISEMITISM TIMED TO AMIA BOMBING EVENT
By JEWISH NEWS SYNDICATE
B'nai B'rith director of Latin American Affairs Eduardo Kohn and Special Advisor on Latin American and U.N. Affairs Adriana Camisar participated in the Latin American Forum to Combat Anti-Semitism in Buenos Aires, Argentina, organized by Israel's Ministry of Foreign Affairs, the Combat Anti-Semitism Movement (CAM) and the Latin American Jewish Congress. Issues included B'nai B'rith's longstanding efforts to combat anti-Semitism in the region and around the world; continue efforts regarding the AMIA case; and confront anti-Israel bias at the United Nations.
MARKING 80 YEARS SINCE DEPORTATION OF FRENCH JEWS, MACRON VOWS TO OPPOSE ANTISEMITISM TODAY
By CNAAN LIPHSHIZ
Emmanuel Macron on Sunday in Pithiviers near Paris described the feelings of betrayal and shock felt by French Jews whom French authorities delivered to be murdered. "In those introductory chambers to the camps," Macron said of places like Pithiviers, an old train station used to keep and dispatch Jews to Auschwitz, "French-Jewish families whispered words in Yiddish to reassure themselves, saying that France would never do this to them. Yet that's what France did. Macron was speaking at the inauguration of a new Holocaust museum in Pithiviers, a town 50 miles south of Paris whose train station was the second-largest point of deportation of Jews to Auschwitz.
'ANTISEMITIC' BOSTON MAPPING PROJECT NOW HOSTED ON ICELANDIC SERVER; ANTI-DEFAMATION LEAGUE ASKS FOR ICELANDIC GOVERNMENT TO HELP REMOVE IT
ARGENTINA – BOCA JUNIORS AND RIVER PLATE PRESIDENTS JOINTLY SIGNED THE IHRA DEFINITION OF ANTISEMITISM
By CFCA
River Plate and Boca Juniors signed this Sunday a commitment to combat hate in football within the framework of the Latin American Forum to Combat Anti-Semitism held in Buenos Aires. With the signature of the president of Boca Juniors, Jorge Ameal, and his counterpart from River Plate, Jorge Brito, both clubs adhered to the definition of antisemitism of the International Holocaust Remembrance Alliance (IHRA).
EIGHT DECADES LATER AND HALF A WORLD AWAY, GREEK HOLOCAUST SURVIVOR FINDS WAY TO PAY BACK FAMILY WHO SAVED HER
By CAM
Recently, 86-year-old Josephine Velelli Becker found a small way to pay back the Michalos family who saved her and her family from the Nazis during the Holocaust in Greece, The Washington Post reported. When Germany occupied Greece in 1943, Elias Michalos, at great personal risk, offered to shelter the Velelli family — from the city of Patras — in the tiny mountain village of Michaleika. "Without them, my family wouldn't have survived the war," Velelli Becker was quoted as saying. The Crabby Greek restaurant in Towson — run by Michalos' grandson, Vasilios Kanaras — went out of business due to the effects of the Covid-19 pandemic. Velelli Becker learned of the situation, helped by the rest of her family, gathered more than $10,000 to give to Kanaras for him to open a new restaurant, the New Southern Kitchen in Cockeysville.
 The Combat Antisemitism Movement is a global coalition engaging more than 360,000 people and 450 organizations from a diverse array of religious, political, and cultural backgrounds in the common mission of fighting the world's oldest hatred. We act collaboratively to build a better future, free of bigotry, for Jews and all humanity.