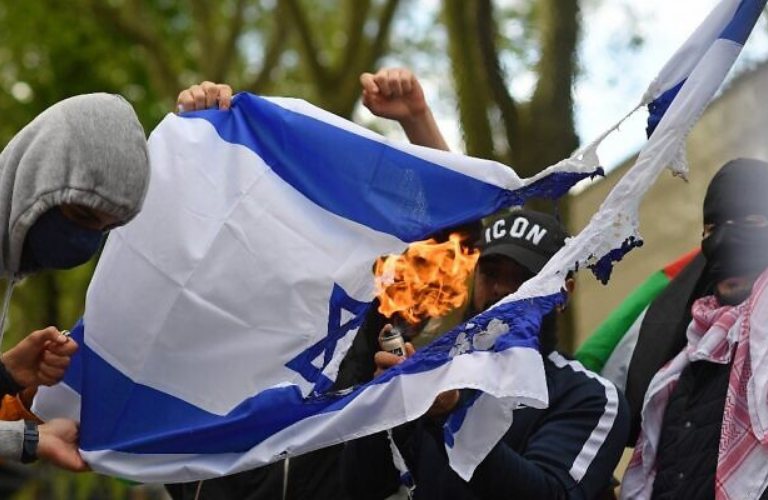 Ahead of Yom HaShoah, New Reports Detail Global Rise of Antisemitism in 2021
A series of new reports published this week, ahead of Yom HaShoah, Israel's Holocaust Remembrance Day, painted a disturbing picture of rising antisemitism worldwide less than eight decades after the Nazi genocide of the Jewish people.
An annual study released by Tel Aviv University's Center for the Study of European Jewry on Wednesday — which can be read in full here — found that "with few exceptions, the largest Jewish populations outside Israel witnessed sharp increases in the number of recorded antisemitic incidents compared to 2020."
The report attributed this global surge of antisemitism to "the strengthening in some countries of the radical populist right and the anti-Zionist radical left."
"Covid-19 angsts, and the economic hardships that followed, unleashed voices of hatred and prejudice," it noted. "So did the conflict in Gaza in May 2021. Social media, with the echo chambers it cultivates, popularizes destructive conspiracy theories on which antisemitism thrives."
In the United Kingdom, for example, a 78% increase in antisemitic assaults from 2020 was recorded, while in France there was a 36% jump.
In Germany, the total number of antisemitic incidents rose to 3,028 — up from 2,351 in 2020 and 2,032 in 2019.
Meanwhile, the number of antisemitic incidents in the United States reached an all-time high in 2021, according to an Anti-Defamation League (ADL) annual audit — which can be read in full here.
A total of 2,717 incidents of antisemitic assault, harassment, and vandalism were reported to the ADL last year — an average of more than seven per day and a 34% increase from the previous year.
The ADL report, released on Tuesday, highlighted a "staggering 148 percent increase" in May 2021 — compared to May 2020 — during a flare-up of Israel-Gaza violence.
However, the report pointed out, the May time period "represented only one of several spikes reported throughout the year and, overall, anti-Israel sentiment did not account for the lion's share of incidents in 2021."
Also this week, a Center for Information and Documentation Israel (CIDI) report revealed a 36% year-to-year increase in antisemitic incidents in the Netherlands in 2021, reaching an all-time yearly high of 183.
The report highlighted an increasing number of incidents involving the bullying of Jewish students at Dutch schools.
"These are heartbreaking stories of children who wonder 'Why are we so hated?' It is painful that sometimes children are confronted with their Jewish identity in this way for the first time," CIDI Director Hanna Luden stated.
In Canada, an annual audit conducted by B'nai Brith Canada — which can be read in full here — showed a rise in antisemitic incidents for a sixth consecutive year — with 2,799, or a 7.2% increase.
"Clearly, stronger action is needed in terms of legislation and law enforcement training and resources," Marvin Rotrand — national director of Canada's League for Human Rights — commented.
Furthermore, in Switzerland, 31 antisemitic incidents were registered in the Federal Commission Against Racism's annual report for 2021, which can be read in full here (in French), marking a slight increase from the previous year.